Hello everyone and welcome into the mind of Ken Sugar! What better way to kick off the New Year than sharing some of the new ideas I have planned for this project! And with that, I'd like to present a new character along with a few new proposed game mechanics related to said character.
One of my most favorite things to do in video games is to really mess around with the terrain and destroy stuff. I just about lost my mind when New Super Mario Bros(2006) came out and Mario was able to turn into Godzilla essentially. Now here I am, a little over a decade and half later, wondering how I can incorporate such a mechanic into my own project. Then I remembered one particular angel who was quite well-received when I first introduced him to a few buddies of mine back in community college: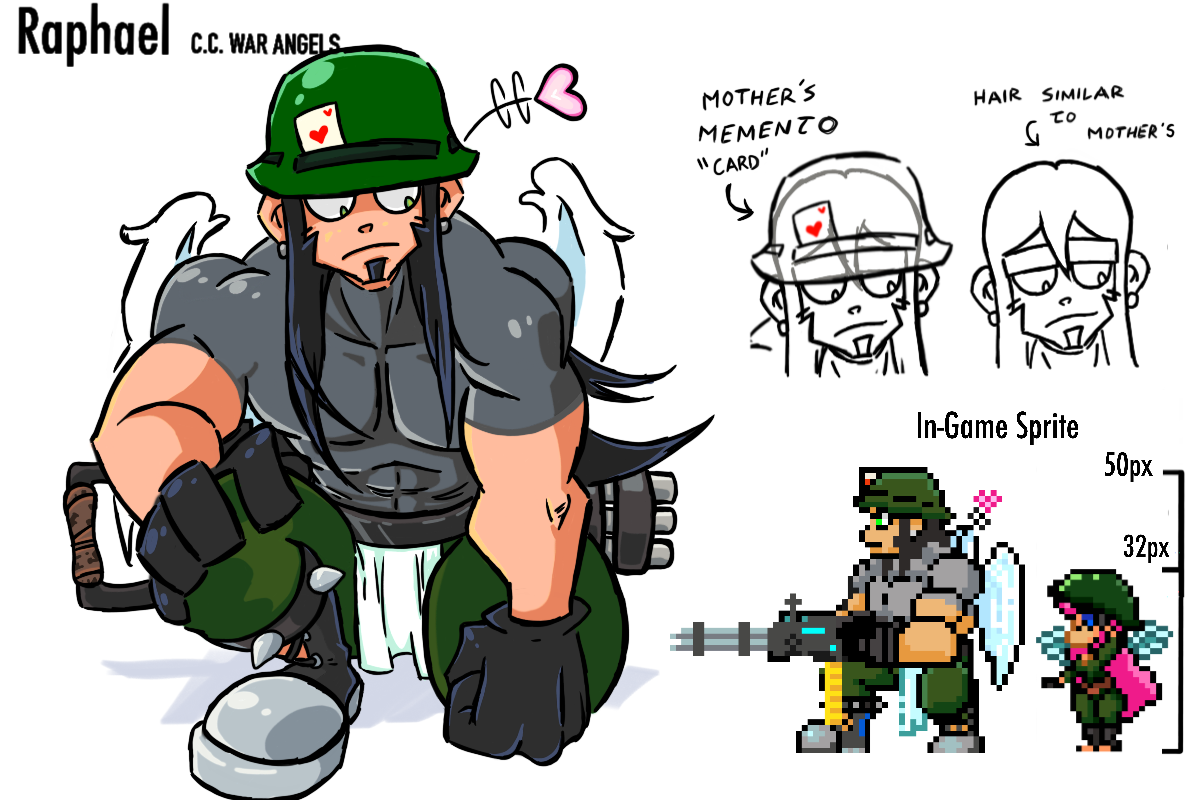 Now before I get into the nitty-gritty of the new mechanics associated with his playstyle, I first want to explain his role within the story of Cherry Cake War Angels:
Raphael is a member of the Nephilim classification of Angels. He is the first and only Nephilim serving in Her Immaculate Militia. Having worked in the "Initialization Nursery" of Her Immaculate Services before joining the army, he has special first-aid training that allows him to help his comrades with fewer resources. Due to his large mass, many of his fellow soldiers consider his presence detrimental to their missions...
So in regards to gameplay, what this means is that Raphael's passive ability reduces the amount of feathers needed to revive downed allies. Being Nephilim class means he has a bigger build than the other characters, so I figured this character is so large, it only makes sense that everything he touches breaks! I'm still working out the details on how many steps a player is allowed before platforms begin to break. I'm hoping this creates an interesting dynamic where the player will have to plan out their moves before they make them, or risk hurting the very allies the player is meant to save.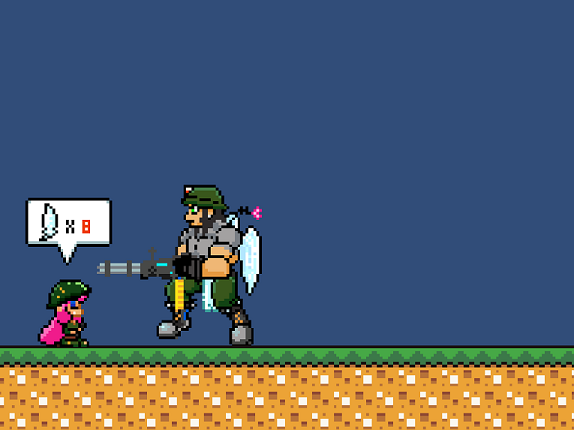 Great!! So now I have this totally destructive character whose destruction makes sense in this world. This , however, also presented its own challenges, the first of which being having to re-design levels to accommodate his size. The second, and certainly most arduous, being to create tile sprites for the "cracked" and "broken" ground tiles.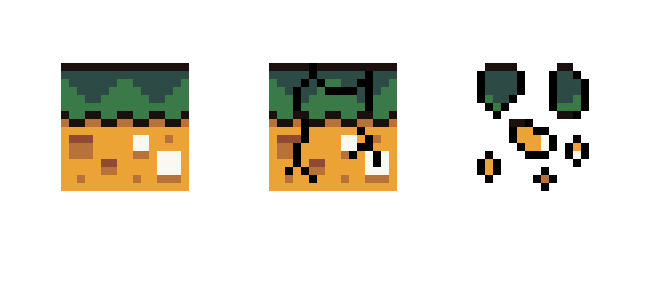 Having to redesign entire levels and create a completely new set of background tiles just for one character initially sounded like more work than it's worth, but then it gave me the brilliant idea to add in an all new Story Mode, which I'll elaborate more on in the next update.
The amount of support I've received regarding this project and the overwhelming amount of downloads this project has received gives me the motivation to follow-through with some of my most ambitious ideas. It also motivates me to add in new features and make this game much bigger than I originally envisioned. I am grateful for each and every one of you who took interest in my project enough to download it and a special shout out and very special Thank you to those who have decided to follow me.
Happy New Year everyone and let's all do the best we are able to this year. Here's to reaching personal goals and trying our best to keep our New Year's Resolutions!! *Clinks glass*
Get Cherry Cake War Angels